For our official Echo Park Rising showcase and our 7th VOX & Voices we give you 7 BANDS and 7 READERS all in one day!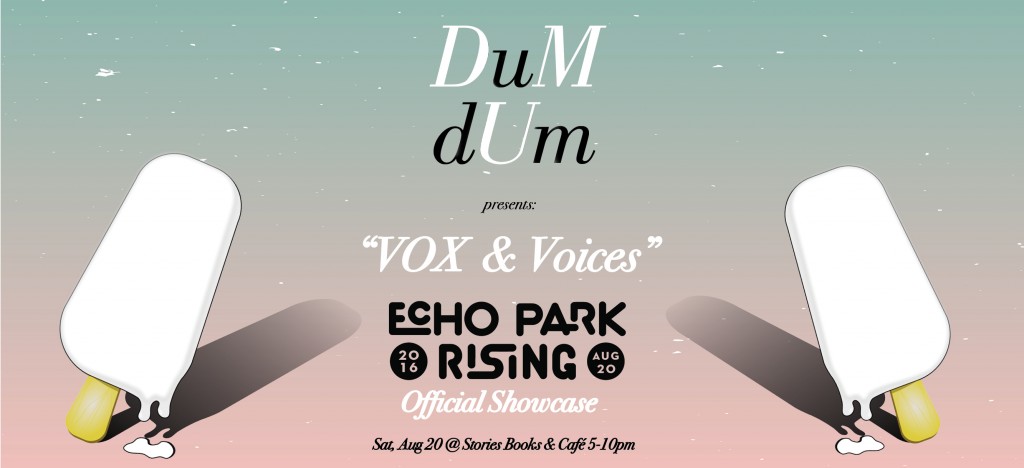 NEED A BREAK FROM THE FESTIVAL CRAZINESS? 
Stories Books & Cafe will be your go-to joint to chill with zines and suck on Dum Dum Pops and FREE POPSICLES while hearing STRIPPED DOWN PUNK SETS AND LITERARY READINGS on the patio!
/ / / / / V O X / / / / /
IRIS
CONNIE LIM
EMILY GOLD
TALEEN KALI
BETTY PETTY
SO MANY WIZARDS
BLOODY DEATH SKULL
/ / / / V O I C E S / / / /
JANICE LEE
SKYE SNELL
ART CURRIM
DM COLLINS
YUMI SAKUGAWA
SHAKAR MUJUKIAN
PETER WOODS w/DEZ HOPE
MC Vivian DUM Martinez! 
Get DUM with LITERARY PRIZES by our Social Media Editor Yan Dick Jones and Managing Editor Rosa Quezada!
FREE POPSICLES ALL DAMN DAY!
This will be the final "VOX & Voices" of 2016 before we hibernate to work on our next DUM issue. Come out, drink fizzy water with us and ask about submissions.