DUM DUM Zine brought back our rockin' "VOX & Voices" last weekend with a Kickoff Party in collaboration with Beating Lights! Peep the gallery below…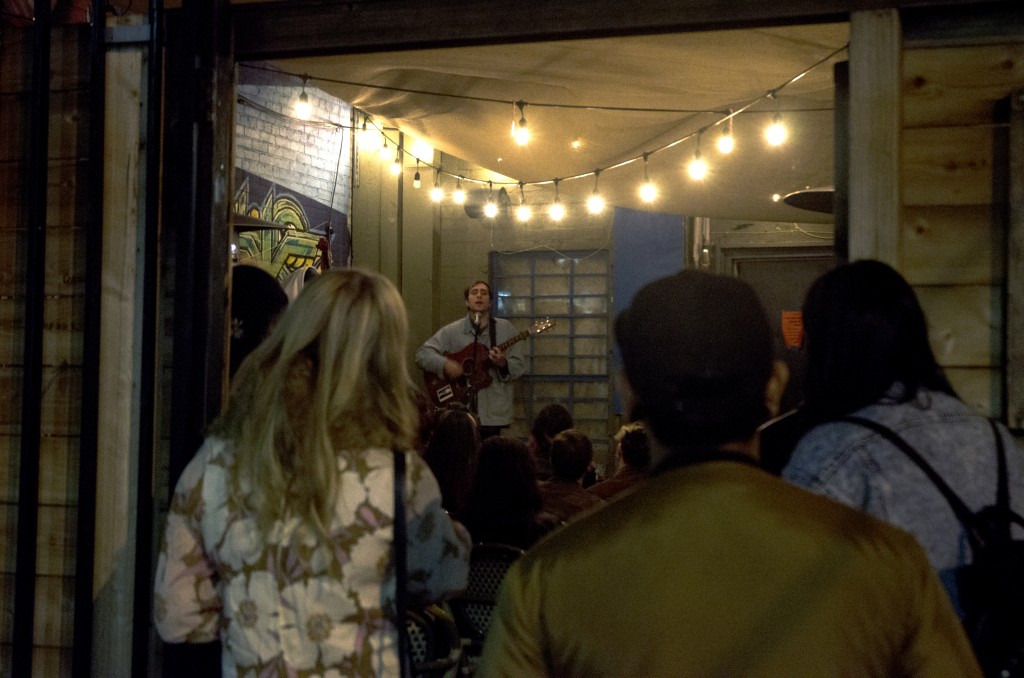 Words by Rosa Quezada, Photos by Jessica Herrera
After a chilly, grey week of rain storms, we took shelter at Stories Books and Café for a cozy night of lit readings and acoustic performances. You remember the "VOX & Voices" drill…every month in 2016, we gave you 3 readers and 1 band at Stories. At Echo Park Rising we got super LIT and had a mega all day-shindig with 7 BANDS and 7 READERS!
For our first event of 2017, we decided to mix it up by teaming up with Shab Ferdowsi of Beating Lights to host new musical performers and support the wonderful work that they do, giving you 3 bands and 3 readers on the charming Stories patio.
The night started with a cup of spiced mulled wine and gathering beneath the outdoor heaters as we listened to Nanor Abkarian lull us with the sound of her poetry. George Ducker then shared some of his poignant and funny spam folder-inspired poems that made us all rethink hitting that Delete All button right away.
There was Bowie-inspired trivia from the mind of our DUM music staffer Julia Gibson, in which a few audience members walked away with fun DUM DUM prizes for keeps.
Michelle Tea indulged us in an entertaining and detailed reading of her latest dystopic memoir-fiction hybrid, BLACK WAVE and reminded us how much she loves Text-Message Interviews.
We shifted from Voices to VOX with the assistance of Chief Dummy Taleen Kali who played us few new songs. Stephen Beebout, visiting from San Francisco, took a break from recording to play us an acoustic set, and Derek Ted of Owl Paws bought an upright bass to the party!
A special THANK YOU to everyone who read, performed, supported and collaborated on creating a fun and safe space for artists and thinkers. Get DUM as you flip through the gallery below, courtesy of Jessica Herrera.
 Thursday, January 19th 2017