Welcome back to DUM DUM Zine's Text Message Interviews! This month we interview Michelle Tea, founding member of Sister Spit, one of our DUM role models and author of so many memoirs we stopped counting and decided to ask her if we could text!

DUM DUM Zine's Managing Editor Rosa Quezada  joins Michelle in text message exchanges about tarot cards, swanky '70s book covers and her recent memoir, Black Wave. Read on and #GetDUM!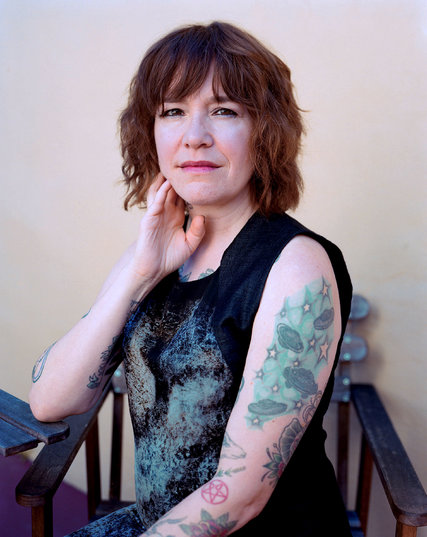 Rosa Quezada (DD): Hi Michelle, ready for our text message interview?
Michelle Tea (MT): Hi Rose! Lez do it!
DD: Sweet! Can you share three images that are currently inspiring to you and why? 
MT: The U.K. cover of Black Wave. It looks so much like an old Sister Spit zine from the '90s! I actually used that exact van clip art, which looked just like our van, and would do the cover in White Out on black paper.
MT: Just gave a talk about the film Times Square and how deeply it impacted me when I found it on the late night 80s tv show Night Flight. While presenting the slide show I realized I totally need a tattoo of Nikky, probably this iconic picture which is hotter than Matt Dillon.
MT:
Looking for inspiration for the cover of my upcoming tarot book, Modern Tarot, I fell into a hole of amazing
1970s book covers
. Let's make books look like this again!
DD: Ooh I love all of these!  How did you decide on the UK cover for Black Wave vs the U.S. cover?  It's so punk. "I worship at the altar of this book"
So true!  And I've never seen Times Square but now I want to.
MT: The publishers decide on the covers; they generally present the authors with a couple of designs and you choose the one you like, though I have had my choices overruled! I love the U.S. cover so much; the photo is by a Los Angeles photographer, Gretchen Sayers. The way the title rises up is so foreboding and also a riff on the Hollywood sign. It also feels slightly velvety to the touch and has decker edges. I already knew that Feminist Press really got the book, but seeing the cover, and the way they inserted the photo of people flashing their ass–I was like, I FEEL SO UNDERSTOOD!
I love the U.K. cover so much also, and likewise it is another sign that my U.K. Publisher, & Other Stories, really gets where I'm coming from, and digs it.
 You MUST see Times Square. It has this all girl punk movement called Sleeze Sisters, and it's like Riot Grrrl before there was Riot Grrrl. In fact I read on the Internet that Kathleen Hannah discovered punk by watching Night Flight, and of course I wonder if she caught Times Square, too!
DD: Lol the mooning was a nice touch that captures the mood of the San Francisco portion of Black Wave really well.  It's loud and blatant.  Tell us more about Black Wave. I've been obsessed since I picked up it! How did the hybrid of fiction and memoir come into shape for you?
MT: The book found its form over years. I had begun writing a apocalyptic novel based on the songs from ziggurat stardust, and then went through the major breakup of an LTR and became consumed with wanting to write about that. But that became problematic because my ex didn't want to be written about, and I had lost the 'too bad' bravado of my past. So I gutted it and then stitched it back together using more fiction and fantasy and hybridized characters. It went through a lot of changes!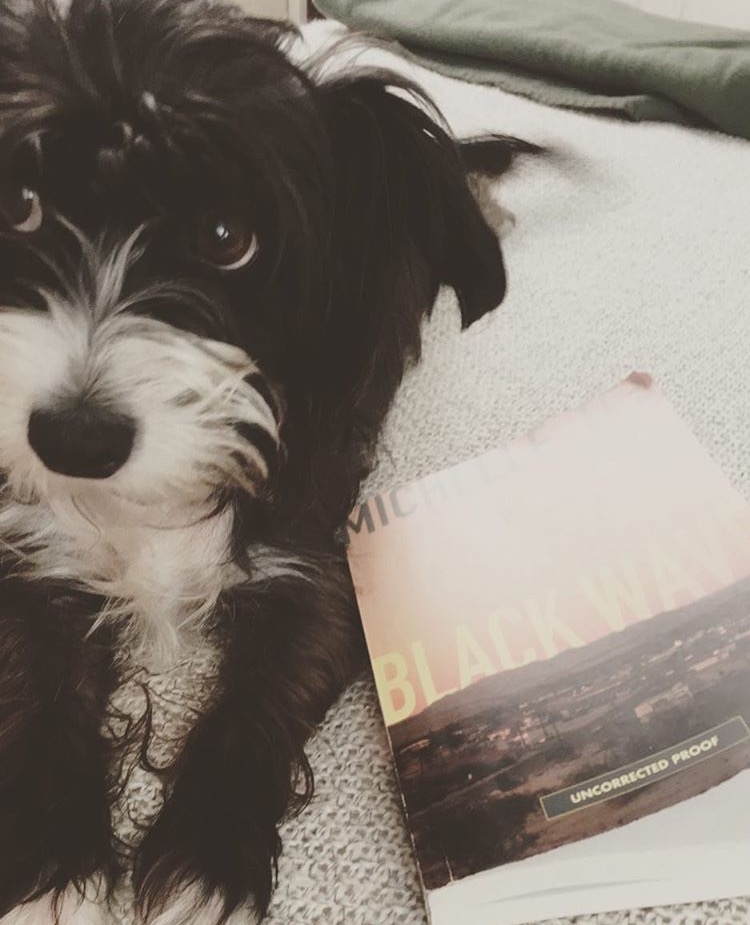 DD: Just saw trailer for Times Square. Nicky rules! I'll try to watch it  this weekend. I feel like Riot Grrrl movement should be a course taught in high school. I think it would give a lot of girls access to a whole new spectrum of rad role models to choose from. Teach girls how to be proud and comfortable with their identity.  Do you ever write with the awareness, that your characters are models for your readers in some way? Do you consider Michelle in Black Wave a fictional protagonist of sorts?
 MT: I never write with the intention to create role models. I don't know that I agree with the concept. I'm not suggesting that anything I do or have done can or should be replicated – and I'm not saying they shouldn't be, either. I think that if I thought that writing about my life would inspire anyone to emulate it it would really freeze me up and fuck with my writing. I'm not trying to be an example of anything at all.
Michelle in Black Wave is definitely a fictional protagonist. We share a lot of heart but she's in many ways an exaggerated idea of myself.
I'm so happy that you're going to watch Times Square! It's one of my purposes on earth, getting people to watch it.
DD: I understand. There were times when I was rooting for Black Wave Michelle and there were times when I def wasn't! Even though exaggerated, characters can easily be idealized. It's cool that she between the worlds of fiction/reality.  
The memoir is full of endings. The end of the relationships, the end of unhealthy patterns and cycles, the end of the world. There is a conscious awareness of the need to destroy and finish things, as well as start fresh. Do you think people idealize/romanticize endings and redemptions? What was your particular relationship with these themes when writing the book?
MT: I've always hated the expectation that novels or memoirs have redemptive endings. Life just isn't always like that, and especially for memoirs it's always felt annoying to think that you're supposed to wrap up your own life and put a bow on it at the end. I really like ambivalent endings, and I feel like the end of Black Wave is sort of like that. Michelle finds a sort of peace and embraces her story in all its potential and limitations but also the world blows up around her.
DD: I also read your "Walking Tour of Rock Bottom" Buzzfeed article yesterday. What are some places in L.A. where you [once] felt optimistic and confident about starting over?
MT: I don't feel like I'm starting over so I don't really have an answer for that, but I find Los Angeles to be an extremely optimistic place generally which I super groove on because I'm pretty optimistic too.
DD: "But also the world blows up around her" do you feel like the world is sort of blowing up right now in way? 
MT: Well in the book it literally blows up so it's not quite like that but yes, in the US it certainly feels like there is a real doomsday scenario before us with the spectre of a Trump presidency. But of course the world is actually blowing up in so much of the Middle East, and parts of Africa and parts of Europe, and it's something to remember whenever it feels like things are going to shit in America.
DD: Totally. Doomsday feels so imminent.
I was looking through the link of the '70s book covers you sent and this one feels relevant:
But also the design really is so simple and gorgeous.
Tell us more about your Tarot book, Modern Tarot.
MT: Those covers make me feel crazed with inspiration. I love them so much!
Modern Tarot is my take on the tarot, card by card, with bunches of original spells you can cast to get closer or further away from the energy of each one. It will be out in June!
DD: Ah that sounds amazing. I've never really explored Tarot readings but it seems so magical. What drew you to the subject originally? Do you perform the readings yourself?
MT: I've been reading cards for thirty years, since I was 15. I have always been drawn to the occult, and come from a family of women who were fascinated by the uncanny, who kept track of their dreams and played the lotto based on what symbols they dreamed, who had prophetic dreams and believed in psychic abilities and the spirit world. I used to accompany my grandmother to the psychic tea room in Boston, while in junior high. They were witches but didn't know it! I was more connected to the notion of being a witch and began casting spells and reading tarot cards after a friend stole me a deck from Barnes and noble in the '80s.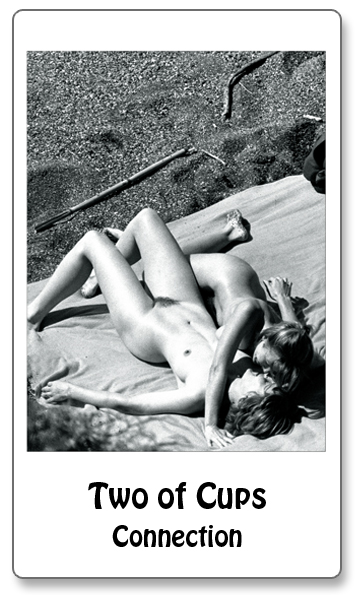 Image from Counter Culture Creations
DD: What is your initial response to feeling crazed with inspiration? Do you sit and freewrite for a while? Do you research, brainstorm, map out a process etc? how do you make sure you capture the feeling and get to work?
MT: I actually find myself in a state of inspiration quite often, and often there is nothing I can do with it because I'm otherwise engaged or have to go to sleep.  It can give me anxiety, all the ideas I have and the things I want to do, but you have to figure out what things are accessible to you, what you can work towards, what can you make happen right now. And I worry that what I choose to focus on is the right project. Sometimes projects get chosen because someone is asking me to do something or I need cash.
Is your family also catholic? My family is catholic and so they were really aware of the taboo and always indulged in witchy things with this air like they were being bad or transgressive, which actually fed the allure of it for me.  I haven't been reading professionally for a while as I haven't had a good space to bring people. But I would be happy to pick a card for you if you have a question!
DD: Yes, totally catholic and totally guilty. Everything always felt so big and scary if it was mystical. I definitely want to pick a card! I have no idea what question to ask but I will have to make an appointment with you!
I think what you mentioned about feeling inspired all the time is beautiful and necessary. I agree that the volume of ideas can get overwhelming.
In the meantime, what are your forthcoming plans with Black Wave now that it's out? Do you have more readings lined up around L.A. and beyond? Where can we see you next before June when Modern Tarot is out?
MT: For Black Wave I'm going to the Pacific Northwest for some readings, and I'll be in DC this winter for AWP. I'm telling a ghost story at the Griffith Park Storytelling Series on the 30th but other than that nothing lined up for LA.
DD: Yes! I'm excited for the Griffith park reading! I'll see you there. Thank you so much for spending time texting me! Black Wave is really special to me right now and I appreciate being able to share this communication with you.
MT: Thank you, and I'm so glad you like it. That means a lot to me!
DD: Lastly, I'd like to know what keeps you inspired and astonished as a creator?
MT: I guess just paying attention to the world keeps me inspired and astonished. Seeing work makes me want to make things to be in conversation.
*
Michelle Tea is the author of five memoirs: The Passionate Mistakes and Intricate Corruption of One Girl in America, Valencia (now a film), The Chelsea Whistle, Rent Girl (illustrated) and How to Grow Up (Penguin/Plume), currently in development with Amazon Studios. Her novels include Mermaid in Chelsea Creek and Girl at the Bottom of the Sea, part of a Young Adult fantasy trilogy published by McSweeneys, and Rose of No Man's Land. Black Wave is a dystopic memoir-fiction hybrid. Forthcoming works include Castle on the River Vistula, the final installment of the YA series, and Modern Tarot, a tarot how-to and spell book published by Harper Elixir.
Tea is the curator of the Amethyst Editions imprint at Feminist Press. She founded the literary non-profit RADAR Productions and the international Sister Spit performance tours, and is the former editor of Sister Spit Books, an imprint of City Lights. She created Mutha Magazine, an online publication about real-life parenting. Her writing has appeared in Harper's, Cosmopolitan, The Believer, Marie Clare, n+1, xoJane, California Sunday Magazine, Buzzfeed and many other print and web publications.
Wednesday, October 26th 2016