Text Message Interview with Tanzila Ahmed, by Rosa Quezada
Welcome back to DUM DUM Zine's Text Message Interviews! You'll get 'em once a month in concordance with our "VOX & Voices" reading series. This month we interview Tanzila "Taz" Ahmed: activist, storyteller, and politico based in Los Angeles.

Ahmed will be reading at the DUM event TONIGHT  joined by Deanna Hampton, Art Currim and our musical act, Mini Bear! Read up now to #GetDUM in advance of our reading on the charming patio of Stories Books & Café!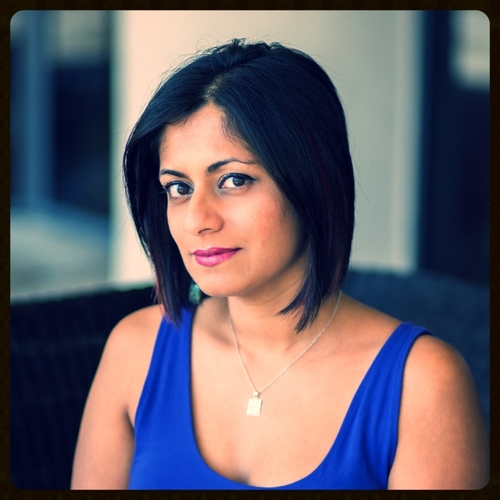 Rose Quezada (DD):  Hi Taz! I'm going to casually text you over the next few days so feel free to take your time with replies. Seeing as this is a text-message interview, mind sending us your top 3 frequently used emojis and why you chose them?
Tanzila "Taz" Ahmed (TZ):

– I think this is because pigs are haram in Islam and it's a running gag to use pigs in all my convos w/ my copodcaster at #GoodMuslimBadMuslim.

– because this is how life often makes me feel. Also, as a nickname of "Taz" I feel like I need to own this one.

 – who doesn't like donuts?
DD: All very good emojis that I feel are actually under appreciated! I was listening to your latest #GoodMuslimBadMuslim podcast and totally get the  reference in regards to the "haters are Muslim" theory. It makes sense even if the reason behind it so warped. Would you mind telling our DUM DUM readers a little bit about the podcast? I think it's a wonderful contribution and people could learn a lot from it.
(Side note: my fave emojis are☀️)
TZ: Sure, the podcast is a conversation between myself and Zahra – two Muslim women who are trying to disrupt the narrative placed on us, whether good or bad. We were tired of how society and culture defined if we were good or bad, simply by us being Brown and Women. To conservative Muslims I was "bad", because I went to punk shows, but to Americans I was good because I didn't drink. People kept trying to box me in, and this podcast is me and Zahra reclaiming our narrative, recentering the story on ourselves and really just having fun. And allowing others to eavesdrop in on that.

(Did I use that emoji correctly? I don't know millennial etiquette on these emoji things).
DD: I love it. And the podcast medium works so well for letting us eavesdrop! It's so refreshing to hear women really taking ownership of their culture and sharing it with the world through their personal lens. There are some definite LOL moments in there too.
It's perfect. I never use the nail emoji but I think it represents girls taking care of business and still being cute. Speaking of identity and cuteness, your #MuslimVDay Cards are a great combination of that. How did those come about?
TZ: I was wandering around near valentine's day, thinking about how love and Muslims were so divisive. So I spent a lot of time walking around coming up with Muslim VDAY puns. I started tweeting them I think in 2011, and the year after that I made a few cards for my friends and I started selling them on Etsy after that. I've been making them now for 5 years! The most popular one was "I Have a Jihard on for You".
I love them because I think they make people uncomfortable – they don't know if they should laugh or not –  and in that discomfort I think their stereotypes and internal perceptions are shaken up. And I think that is what disruption art is supposed to do. If people are upset, that is fine – as long as it makes them think and eventually, they will laugh, too.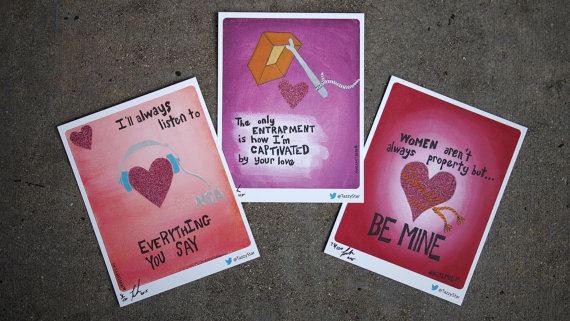 DD: Hi Taz, thought I'd give you a little break for the weekend but I do have a few more questions.
Would you make cards for other holidays? I think your V day cards a great way to shake up the public misconceptions of love, religion and culture. (Plus, "Jihard on" might be my favorite phrase of the week.)
We're living in some pretty volatile times. How are you coping with the wave of Islamophobia, especially post Orlando? As a writer, do you feel responsibility to keep the dialogue alive in all your work? Does that feel daunting at times?
DD: Hi Taz just following up
TZ : Does that mean you are all good and writing? Any other questions for me?
DD:  Text messaging loophole! Sorry you missed my text from Sunday. Technology is so weird
TZ: Oh no!!! If you were a dude I totally would have spent the past 3 days analyzing why you were totally over me because of the text message lag.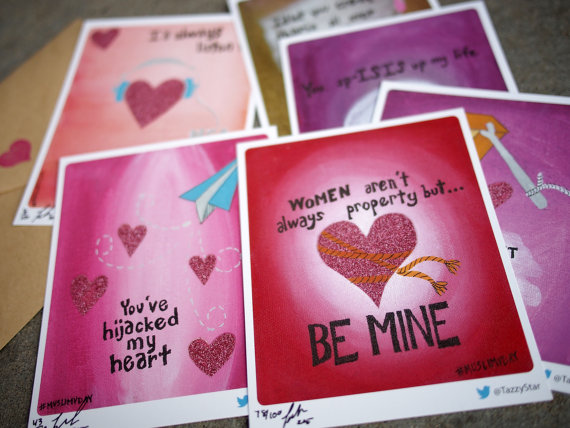 DD: Haha ladies gotta stick together. Text message etiquette is so relatively new. And yet there are already many ways to screw it up. (You can answer the questions at your leisure, I have a few more after that.)
TZ: Lol, I probably won't do Muslim/ any holiday card. The puns are tough enough to come up with! Though I am obsessed with idea of making a Muslim Christmas RomCom, because I love Christmas RomComs.
And I am feeling pretty icky about all the islamophobia going on – I feel trapped. On one hand you have ISIS/Daesh bombing and macheting hundreds in Muslim countries – the machete attacks in Dhaka particularly hit me hard.
On the other hand, you have Trump spewing terrible crap and lies, and really feeding into fear mongering Muslims for votes. And now you see people getting stabbed and shot in front of mosques during Ramadan prayers. It's sick.
One of the hardest parts of Orlando was how complicated of a narrative it was – it really forced the orthodox Muslim community to recognize how queen Muslims exist and that the internalized anti-LGBTQ rhetoric typical of most organized religion potentially contributed to Mateen's issues. I have a lot of Muslim queer friends, many closeted, and I felt a certain responsibility to be an ally this month.
As for responsibility in my writing – I dunno. I write about what I see and what I feel – and right now, I can't feel anything but tragic heartbreak over everything.
And when I can't write, because it gets too hard, I usually paint.
DD:  It's definitely not a casual subject to chat about via text so I appreciate your input. I remember thinking immediately after Orlando that the Islamophobia would surface in the media just as instantaneous as the homophobia and anti-immigration sentiments would. It's wild that we live in such an interconnected web of hyphenated labels (Mexican-American, Gay Muslim-American, Trans-African American) and have to defend every last bit of who we are at every moment. As if there has to be a rigid dichotomy in the multiple worlds a person occupies. I think that's why your podcast is so refreshing and badass. It's so straightforward in its intent to represent this generation of Americans who will not be defined by just one category. Also, a Christmas Muslim rom com would really stir things up. Great idea.
I brought up the responsibility question because, personally as a minority, I usually feel like I have to represent my communities somehow via art or literature, because it's really the only way I know how. It's a heavy responsibility though. There are so many things to address so I feel a bit paralyzed and overwhelmed. Painting seems more emotive, maybe a better way to deal with a raw emotion like sadness.
If you don't mind me asking, how was your Ramadan? Today is the last day of fasting, yes? Do you feel more clarity when you fast? Does it inspire you write more or get more creative work done? That usually happens to me when/if I fast. Have you been working on any upcoming projects, publications?
TZ: Yesterday [Wednesday] was Eid, the celebration day to mark the end of Ramadan. Every Eid we wake up and go to prayer at the convention center with thousands of Muslims. We make a donation. We pray. And then we go to lots of house parties and eat lots of food all day.
I've been doing Poetry A Day for Ramadan for the past 5 years. It's grown over the years and now we have 55 poets participating and we publish on Medium. I've always found poetry writing to be a spiritual practice. Writing is always so reflective for me. To write poetry in Ramadan really helped me to get spiritual in the past.
This Ramadan has been feeling particularly tragic. With everything Trump has been saying and everything DAESH/ISIS has been killing – it feels like a precarious time to exist as a Muslim. And it's hard to fast when you feel like your life is always in danger. I felt less introspective this year, more than ever. I felt very sad, particularly with the Orlando shooting and Dhaka attacks.
DD: Can you tell us about Emdash & Ellipses  + the self publishing process? Will you have some for sale at Stories tonight?
TZ: Emdash and Ellipses was a chapbook I just released in February of poems I've written over past 7 years. I have second set of poems that are still unreleased which I think I will be releasing soon. I've been focusing my writing energy this month on Poetry a Day For Ramadan – I think my set at the DUM DUM Zine Event will be exclusively writing from this past month. I will be in a book out this fall called "Good Girls Marry Doctors." And I'm in process of turning my column "Radical Love" into a book.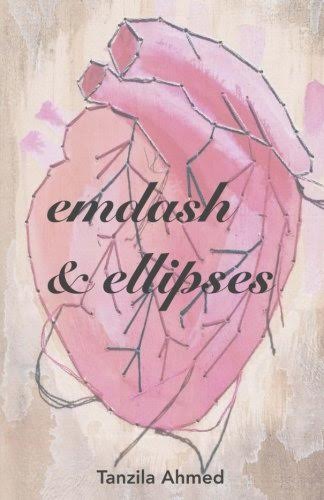 DD: Thanks, Taz. We look forward to having you at "VOX & Voices" and getting to read/hear some the magic you've been working on this past month. We appreciate your literary presence with us and at large during such turbulent times. ✨  Last question: what inspires and astonishes you as a creator?
TZ: What inspires me as a creator is the WOC artists who are unafraid to speak their truth with art. And pink sunsets. And punk music. And the sound of waves.
*
Friday, July 8, 2016