After more than 5 years of accepting literary submissions, we're now opening up our parameters to visual art!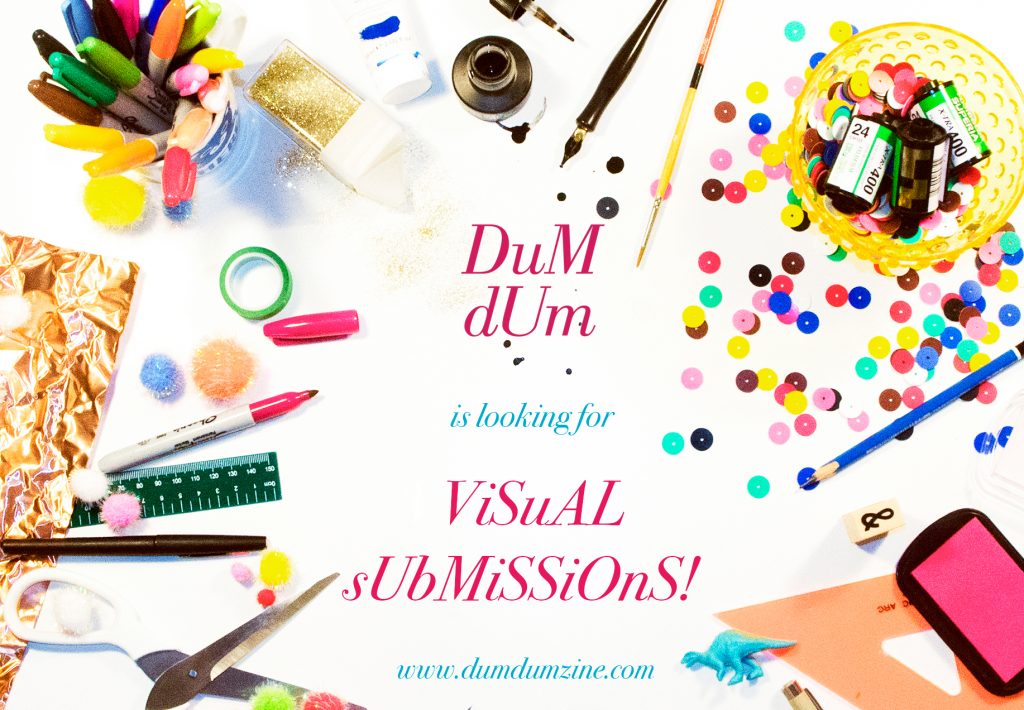 Hi, Jessica Herrera here, the newest addition to the DUM DUM Zine staff. For my first post as Photo Editor of the zine, I'd like to announce our very first call for visual art submissions and tell you a little bit about the art side of DUM DUM, and my involvement with it.
I made my first image for DUM DUM Zine last October and it's been magic ever since. I've always drawn inspiration from film, music, and history, so it was a natural thing to make images based off of literature.
As an individual and as a staffer for DUM DUM, meaning and intent in art is very important to me. So many times I've gotten stuck creatively and remedied that by asking myself questions about the piece I am putting together. What are the symbolic meanings or historical references of the colors I'm using? What numbers or amount of repetitive elements can I use to convey a theme represented numerically? If I'm making a piece based off literature or music, I do research on key words to see what imagery they may be linked to. Sometimes I go through this process AFTER I've made the piece, because sometimes when I'm making stuff, the subconscious is hard at work and I can't recognize it until I see the fruits of its labor.
Usually I make something based off of another thing, but sometimes it's a good exercise to see linking elements in pieces that already exist.
That's where our call for visual art submissions comes in!
We're doing a little experiment: artists submit their visual art, and we pair them with literary pieces that they meld and share visual ideas with. That means that there is no theme that we are using, and we'll be pairing the accepted submissions AFTER you've sent them to us. In other words, submit whatever you want!
Submissions will be accepted in the following categories:
Collage
Digital Art
Drawing
Glitch Art
Illustration
Painting
Photography
Scanography
We are looking for submissions that embody, even transcend these categories, maybe even creating a hybrid of each! Show us what you've got! We want you to become part of our growing collective of DUMmies.
Send your submission to submit [at] dumdumzine [dot ]com with the Subject line: Visual Art Submission!
Please send your image as an attachment, and make sure it is 72 dpi, 2000 px max on the largest side.
Deadline: October 1st!
*
Photo illustration by Jessica Herrera
Thursday, September 14th 2017