It was 2:34 pm on Saturday, July 13th when I realized I was on the wrong side of Glendale Blvd. I stared at the crowd of hipsters gathering outside Lolipop Records' new storefront and recording studio in Echo Park and felt like I was about to compete in the Hipster Olympics, and it wasn't going to be funny like the YouTube video, this was serious.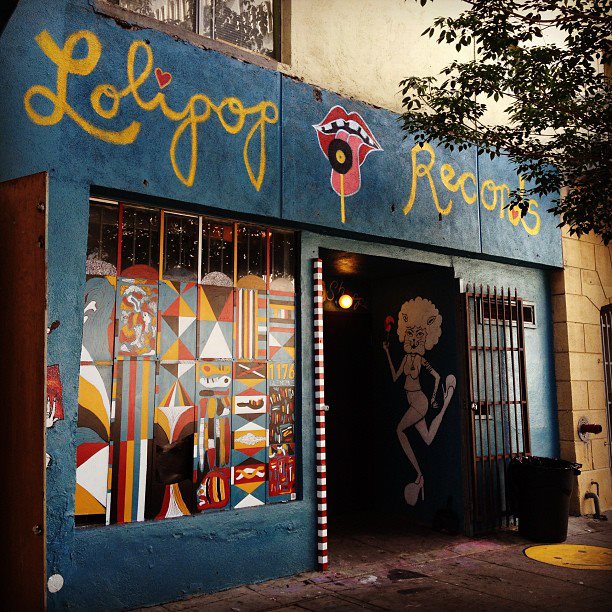 But I felt 100% prepared I'd done everything possible to be ready to color coordinate my dirty clothes so well that it looked like I didn't think about the outfit, all for this curious event.
I knew I would stick out when I arrived. I'm not in this friend group. I didn't start high school bands with these guys. Some people may or may not remember giving me the "wow dude you really Facebook stalked the shit out of this" glares at previous shows. But something was different when I walked into the Lolipop Record store. I didn't really feel as judged as I normally do going to shows in L.A. Maybe it was just the Adderall I ate because I was "reporting wanted to take good notes" that made me feel so good, but I felt really friendly vibes there.
The store itself is everything you'd imagine an indie rock store to be. Vinyl covers line the walls, Mario Kart 64, limited edition t-shirts. Even the cassette-tapes were positioned deliberately around the store. I noticed that someone took the time to rewind all the tapes to look brand new. (Lolipop Records Owner/Crazy Guy in Charge Wyatt Blair confirmed my suspicion that this was intentional.)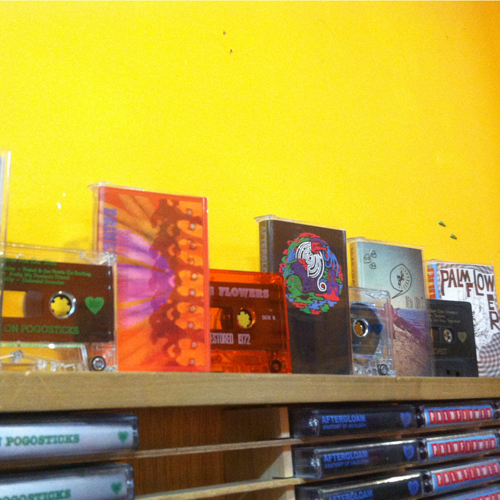 After meeting the guys behind Lolipop, I realized they were just mad chill dudes. They gave me a free shirt.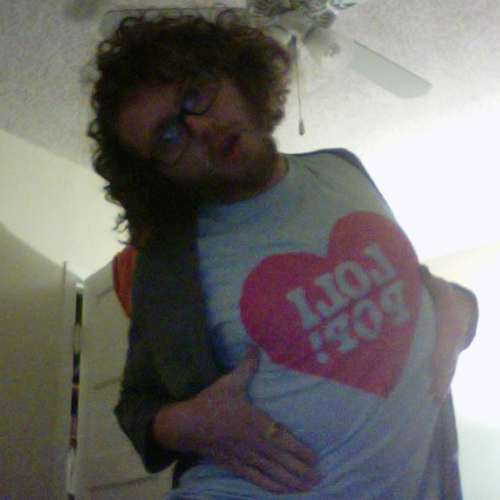 The thing that I didn't expect from this experience was that I was more fluent in the bands than I could have expected. The more I looked through their tapes, the more I recognized. How is it I never noticed all these DIY bands together? Where did all these connections come from? I decided to find out the only way I know how: smoking copious amounts of weed and interpretive dancing to the bands.
STONED HIGHLIGHTS:
Expectations: Drummer standing with two drums. One drum has a t-shirt on it. He seems hardcore/ knows what he's doing. Crowd seems like just girlfriends.
Show: Weird ad blared during sound check, then singer's mic fucked up first song. Second song inspires me to host event called "Loli-pop-looza." Bassist sometimes used only one string. Very simple and whole. Lead guy did that feedback thing with the guitar and played with pedals for the first time the entire show (I think), then dramatically walks off stage and leaves the room.
Notes: What's the deal with that "dramatic hipster walk-off"?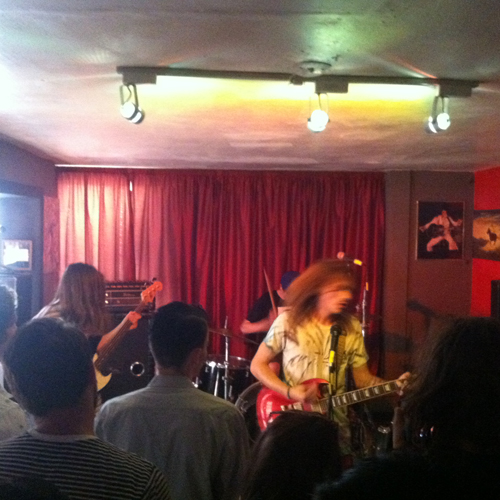 Expectations: Nicknamed lead singer "Steve Irwin tie-dye guy" even though he looked exactly like the crazy kid obsessed with Megadeth (Megadeth only-no Metallica, not even Master of Puppets or Ride the Lightning) in the "Rock Band Class" I took when I was 13, but he's got a Gibson, even though I hate AC/DC.
Show: DTF. Always love a 3 piece band that can make a lot of noise. Steve Irwin said things like "This one's called 'Snowy Cocaine'" and the crowd would cheer as he played the intro. I think every song had drugs (and sometimes a pun) in the title.
Notes:  I want to start a band with this guy even if he just made fun of/hurt me the entire time.
Expectations: I gave the guitarist the nickname "Weed Guy" early in the day because of his pot-leafy tank-top. He reminded me of Spicoli, as well as the bassist in King Tuff, who also reminds me of Spicoli. I had a lot of fun at the show guessing out of all the people there who was going to get on stage next.
Show: Too crowded to take a pic. Was able to stand behind Snow Wite who was letting his hair blow in the wind. I tried to not be creepy about taking video, so it didn't really turn out.
Notes: There was a mom video taping this, which brings up a very relevant topic in society: We Need More Moms In the Pit!!!
Expectations: Lead singer  doesn't look conventionally 'cool' but has a naked person on his shirt or something. I'm 95% convinced he's a phenomenal guitarist because of this in addition to the hollow body.
Show: Everyone lost their shit. After listening to their Bandcamp, I think their notable live tracks were played with that "at the show" energy and it's "not the same." With a bio like "Just four bros making chill ass music," I would never guess these dudes could bring it.
Notes: Lead bro Ruben is a legitimately awesome guitarist, he shreds twice as well as you wish you could. Feel like his parents made him take "jazz guitar" and it's paying off. Bomb ass German Aquatics album cover.
Expectations: Was literally stuck in a corner for this. Felt very appropriate given the band's name. Crowd was waiting very intensely, like they were waiting to pounce.
Show: First pit of the day opens up moments into the first song, I can already smell the sweat, only show to get crowd surfing. Randomly made me imagine we were in the bottom of a pirate ship.
Notes: You know how Eskimos have fifty words for snow? Feel like California kids have a hundred words for surf-rock.
Expectations: Nerd guy setting up instrument that doesn't look sexy or easy to play, but also girl bassist, this is probably going to rule.
Show: The way I see it, each member of this band is a different kind of specialist wizard. I told them this after the show. They broke out the 12 string and I can still feel the drone pulsing through my body. They put me in a face-melting trance.
Notes: They should probably have their own comic-book/Saturday morning cartoon. May or may not actually be time-travelers…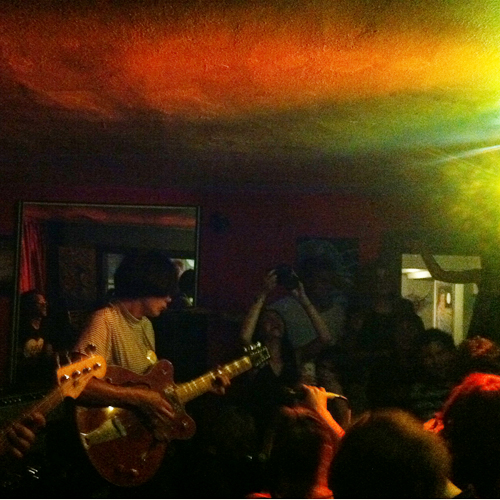 Expectations: I'm psyched because I see an Omnichord, I'm feeling 666'es and all around. For no reason I expect the band to be "creamy."
Show: This also turned into a pit. The band seemed surprised by how much people reacted to their music. I wrote: one song sounded like "an underwater church hymnal for the souls of dead sea punks going to war," no idea.
Notes: Strongest finish & crowd participation, very Satanic. It felt kind of like a metal show. Or something. Maybe hardcore. Legit thought I heard someone screaming in pain throughout.
Expectations: Bassist was the dude making burgers all day…
Show: Crowd knocked over the keyboard fast and got in trouble for moshing. Definitely the sexiest band that night. Feel like I'd be comfortable hosting a magic-mushroom orgy in a tent to this music.
Notes: FB says: "Soon to be Mystic Braves" — which is weird, the name change must be some LSD coincidence because when I looked at my notes all I found was alternate band names for these guys, not sure where they came from:
Magic Carpet Rock Band

Eternal Sunshine of the Acid & the Flashbacks

The Brotherhood of the Traveling Bowl of Never Ending Resin

B-Sides for Bad Bitches

Has Anyone Ever Said You Look Like the Kid in that Movie Almost Famous?

Orange & Yellow Pants Girl (…on acid)

Sgt. Pepper's Burger Squad: Special Space Elves Unit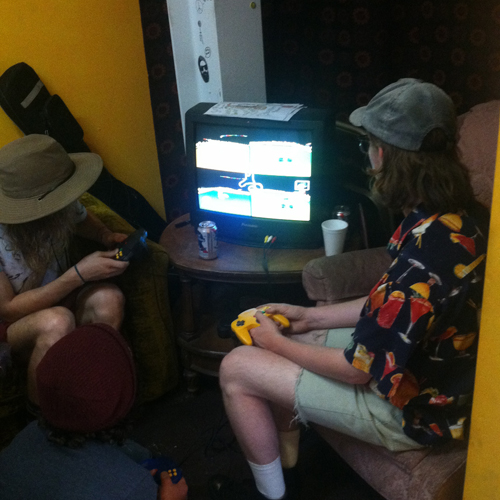 Expectations: THIS BAND HAS 3 GIRLS AND 1 DUDE WHAT?!!
Show: Everyone was burnt out, the crowd was small and lots were sitting. I was sitting. I nodded out for a second, but they played really well. Catchy and spacey jams.
Notes: The lyrics and the songwriting (and later album art) made me wonder if I saw the girl version of Nirvana. Every song is spot on, like a perfect portrait into another universe.
RECAP:
Lolipop Records is a fun label managed by fun people. I'd love to smoke foolish amounts of pot with them. They put on a great show, grilled burgers, drank lots of beer, and most importantly, the cops totally rode by but never stopped.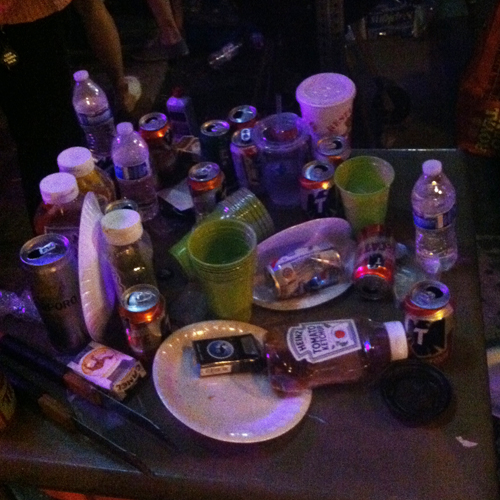 VENUE: 8/10 – way too hot. I still smell after like three showers.
OUTFITS: 10/10 – didn't see an outfit I didn't like. It was a great day. I kept telling this to everyone. I wanted to take pictures of everyone's outfits, but felt like they'd think I was the biggest loser ever.
OVERALL VIBES / SCORE: 9/10 – I felt good being here. Even if I was alone and not talking to anybody, it didn't feel as bad as that normally does.
Friday, July 19 2013 
—
Ian Dick Jones is a writer from Chicago and is now sweating his balls off LA. He likes experimental music and being a creep. Ian has work forthcoming in a super-secret multi-media project he can't tell you about with HOUSEFIRE Publishing. You can find more things by him at www.whoisdickjones.com