"Waxing Philosophical, L.A." is DUM DUM's monthly column written by Christina Gubala, co-founder of L.A.'s premier cassette-tape label, Complicated Dance Steps. A die-hard vinyl collector, you can find her spinning records at local bars near you.

Our city has a continuing history thick with vinyl love, now more than ever with record shops opening their doors instead of shuttering. Each week, Gubala breaks down a fresh new wax purchase, and writes about the record store as well, mapping it as part of L.A.'s history in the making.

April's special installment brings you our SXSW edition, featuring End of An Ear Records in Austin.
After a 5am flight into Dallas and a traffic-addled ride through West Texas down to Austin, we'd finally arrived at South by Southwest. It was my third trip to Austin and first to the infamous festival. I was already feeling a little overwhelmed. With the windows rolled down in our car, we could hear the sound of amplified live music pouring forth from every establishment we passed, most of it guitar-centric. Vocal harmonies whipped by on the breeze and as far as the eye could see people swirled about, many of them with drunken swagger. It was mid-afternoon and we didn't have anywhere we had to be until the next morning, so with the musical city as our oyster, my traveling companions and I decided that our first SXSW destination would be the place we all wanted most to visit: End of An Ear Records.
The first time I visited the shop was last summer, at which time they made such an impression on me that I later found myself measuring the quality of L.A. record stores against the high standard they set. Since that initial visit, I had been anxious to return to their vast, compelling reggae section where I'd once found a Gregory Isaacs record I was convinced didn't even exist anymore. The degree to which my Jamaican record collection was improved by shopping there was so significant that End of An Ear purchases showed up on all my reggae mixes for months. The counter clerks assured me that they "worshiped at the altar of Jah," and based on their meticulous, decade-spanning collection, I believed them.
We made the slow crawl through Austin, past a camp of food trucks and countless guitar-laden wanderers bouncing from gig to gig. We pulled into the gravel parking lot and I sprung the car door open and spilled out into the humid Texas spring afternoon, stretching and fidgeting, excited for whatever End of an Ear had in store for us. An alt-country band was arranging their gear and sound checking on the stage to the right of the entry, and without a second thought, I squeezed into the gaggle of patrons and maneuvered toward what I believed was the reggae section. To my chagrin, the order of the store had been rearranged since my last visit, and I found myself face to face with a series of specific metal subgenres. I swirled through the aisles feverishly–past the psychedelic prog and the lush-looking folk bins, elegantly organized displays of Waxpoetics zines, CD bins and VHS stacks, and myriad other tantilizing sights.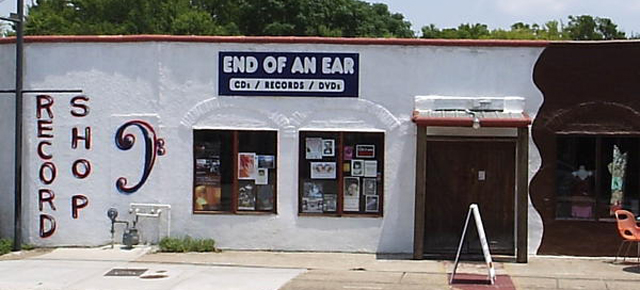 My companions and I instantly parted ways, staking out our listening stations early and eavesdropping to gauge the potential of the pending live act. The boyfriend's birthday was rapidly approaching so I instructed him to find the record he wanted most for under $20 and I would make it his. Then, finally stumbling upon the relocated reggae section, I blissfully dug my fingers into the stacks and started flipping. Don Carlos, Junior Walker, Dennis Brown, and U-Roy siren-sang to me with their vibrant cover art and distinctly Jamaican wear. Within minutes I had plowed through the section, harvesting a stack of potential purchases and completely disregarding anything around me, including the burgeoning in-store crowd.
The store's maze-like layout provided enclaves throughout the space for customers to tuck themselves away, encouraging browsers to linger longer by providing them an opportunity to stay out of the flow of traffic. One could get sucked into the dollar record rabbit hole and remain completely unnoticed, free to pore over the ridiculous covers of '80s boy bands and boogie compilations liberally (as one member of my party did). End of An Ear is special in that it creates the illusion of community between art and shopper–there is life and personality behind each display, each bin, and engaging it in makes one feel as though they are tapping into a vibrant energy source alive and throbbing through the city. I suppose its a little clumsy to articulate it this way, but to me, End of An Ear seems like a place where it would be impossible to feel lonely. It exists as a consequence of the community it showcases, and pulses with life and energy in ways that typical retail spaces can only hope to cultivate.
One by one, each of my friends and I slunk past the front counter, grabbed a sticker and a handful of buttons, eye-balled the tempting totebag array and found our way back to one another to assess our respective selections, each one from a different corner of the recorded universe. Someone had found Kate Bush's Never Forever and had fallen in love upon first aural contact with "Babooshka." Another friend had a stack of eye-catching, kitschily covered discount wax, and I proudly presented a handful of reggae comps I'd found. However, when the aforementioned boyfriend in question rejoined the group with his chosen birthday request, we had amongst us a selection victor. He handed me a copy of Steven Halpern and Dallas Smith's 1984: Newsound, and the cover's crystal stalagmite arrangement and retro-futuristic typeface hinted at the brilliance within. Upon investigating the sleeve further, I learned that Steve and Dallas had composed the two sides of the record as a cultural counter-scenario to Orwell's dystopian vision of 1984.
The A-side was an exploration of '80s genres routed through the prism of Halpern's imagination, including (but not limited to) futuristic world music, disco and soul. We were floored at how contemporary each of the tracks sounded, as though they could have been recorded last week in Highland Park. His spectrum suite provided foundation for the fabulous and joyful pop tracks, a warm reminder of Halpern's roots and central focus, which took center stage on the B-side of the record. Of all the Steven Halpern records I've heard (which, in the interest of full disclosure, is at minimum 20), this one came across as one of the best executed concepts and most enjoyable, diverse listens in his catalog. It was a true pleasure to make this purchase, knowing that it would surely become a fixture in our collection and understanding that End of An Ear was a perfect place to find something so rich with personality.
End of An Ear in Austin is an essential destination for record heads of all demographics. In a city known for its love of music, I've yet to find a retail space that articulates it more wholeheartedly than them, and it is with my whole heart that I recommend checking them out the second you set foot in the city.
Tuesday, April 3 2012