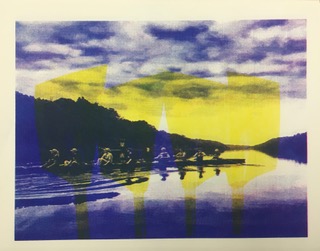 Put a little hunger in it, would you?
I don't have all day to be capsized
I uncoil in summer
waiting for boys to roll a barrel of watermelons my way
kiss me dry across California
Promise me I can make the noisiest of noise
The ones who think of me are never the ones
I am prettiest when sleepless and sad
Oblivious, effortless selfies
Pornographic fruits cracking milky by the window
My door un-magicked, my attempts
decidedly a cut scene
Nobody is buffering the moon
Each time I text you I lose a coin
There is a server somewhere
holding us all until further instruction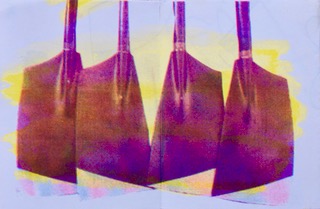 *
Lauren Eggert-Crowe
is the author of four poetry chapbooks, most recently Bitches of the Drought, finalist in the Sundress Publications 2016 Chapbook Competition. Her work has appeared or is forthcoming in ghost proposal, Witch Craft Magazine, What Fresh Witch Is This, horse less review, Sixth Finch, and Interrupture. She serves on the leadership team for Women Who Submit. Read her work at laureneggertcrowe.com or find her on Twitter as @laureggertcrowe.
Brianna Burke
endeavors exploring and expanding horizons of aquatic life through printmaking. At the moment, she is exploring the contemporary culture of athletes. She has co-founded TEN09, a loose collective of artists in the surrounding Washington, D.C. area. Brianna is a Student-Athlete at George Mason University studying Health Administration.
 Friday, October 27th 2017